ESCO Technologies at a Glance
ESCO Technologies manufactures filtration and fluid control products for the aviation, space and process markets; is the industry leader in RF shielding and EMC test products; provides diagnostic instruments, software, and services for the benefit of industrial power users and the electric utility and renewable energy industries; and produces custom thermoformed packaging, pulp based packaging, and specialty products for the medical and commercial markets.
Quick-scroll to a category by choosing a link below:
Filtration / Fluid Flow
Our Filtration/Fluid Flow companies provide innovative solutions essential to the aerospace, space, defense and industrial markets. The combined technical capabilities and resources of Crissair, Inc., Hi-Tech Metals, Inc., Mayday Manufacturing Co., PTI Technologies Inc., Westland Technologies, Inc. and VACCO Industries enable us to provide highly engineered fluid control solutions for mission critical systems.
---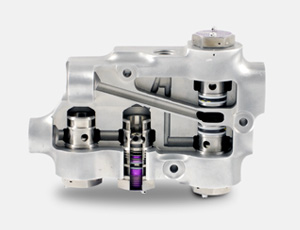 RF Shielding & Test
ETS Lindgen Inc. provides a broad and global customer base with highly engineered components, chambers and test and measurement systems that allow customers to perform sophisticated tests to ensure their products operate as intended and don't interfere with other electronic devices while complying with regulatory and industry-defined standards.
---
Utility Solutions
Doble Engineering Company is a global market leader in the electric power industry, offering solutions and services to minimize risk, improve operations and optimize electric power infrastructure performance. Doble provides a comprehensive portfolio that includes industry-leading diagnostic equipment, intelligent software, advanced services, comprehensive support and professional training.
Morgan Schaffer designs, develops, manufactures and markets an integrated offering of dissolved gas analysis (DGA), oil testing and data management solutions. Morgan Schaffer is a global leader in providing premium DGA equipment, software and services for monitoring the health of critical oil-filled transformers.
NRG Systems is dedicated to the design and manufacture of smart technologies for a more sustainable planet.  NRG serves multiple stages of wind and solar energy project development and provides tools for a range of atmospheric remote sensing applications.  NRG's products are utilized by electric utilities, turbine OEMs, project developers, research institutes, and government agencies around the globe.
---
Technical Packaging
Our Technical Packaging companies with operations in the United States and Europe provide innovative solutions to the medical and commercial markets for thermoformed packages and specialty products using a wide variety of thin gauge plastics. The group also has the capability to produce pulp based packaging and products. Both of our companies, TEQ in the U.S. and Plastique in Europe, are focused on developing solutions for high precision applications and meeting the evolving need for enhanced sustainability.
---